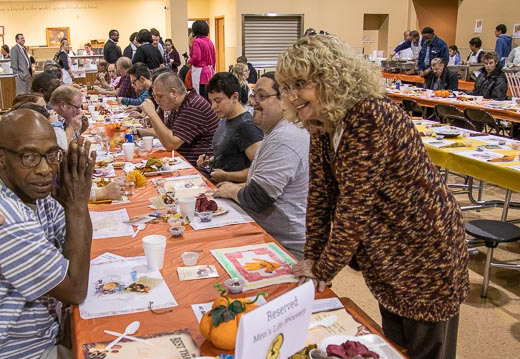 Recently I received a letter from a friend—someone who worked at the Mission's old Madison Street site back in the 1970s and '80s. Today he pastors a small church in Montana, but continues to give to and pray for the Mission. He writes:
"I am thankful for the opportunity to minister through the Mission's work when I pray and send my meager contribution. That means I have at least a little part in affecting someone's life there. … Even after all these years, I still have a feel for that work."
As the holidays approach, let me extend our gratitude to everyone who faithfully serves, gives and prays, enabling the Mission to minister to people every single day. We understand the urgency of a meal, or a place to sleep, or receiving a warm coat as winter sets in. But what makes the Mission so special is the spiritual work that happens here. Every guest and resident is told, repeatedly, that they are made in the image of God … that their life has value … that they are loved … and that their eternity can be secure.
It's truly kingdom work, and I am so thankful for everyone who takes part: guests, residents, staff members, volunteers, donors and prayer partners. You are impacting eternity.
Partners in HOPE,

Sherry Pitney
CEO