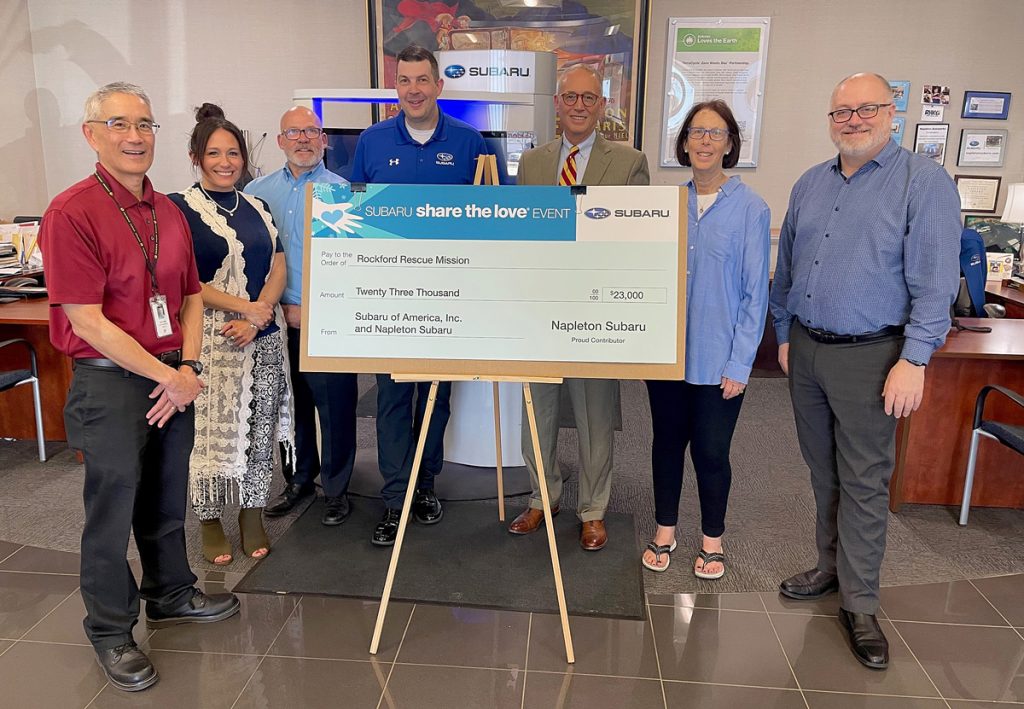 Rockford Rescue Mission has received $23,000 from Napleton Subaru to help provide physical assistance, practical guidance and vital resources to the homeless and hurting in Rockford. The donation is part of Subaru's "Share the Love" event to support local charities close to their hearts.
"Rockford Rescue Mission is much-loved by Napleton Subaru and a vital resource for so many homeless and struggling individuals in the Rock River Valley," said Todd Tifft, Sales Manager at Napleton Subaru. "We are honored to partner with them to bring essential care and healing to the lives of our neighbors in need."
The donation was presented to the Mission Wednesday, April 12, at Napleton Subaru, 505 N. Perryville Road in Rockford.
The "Share the Love" event donated $250 for every new Subaru vehicle sold or leased from Nov.17, 2022 through Jan. 3, 2023, and has raised over $250 million nationwide for charity over the last 15 years. This marks the third year that Rockford Rescue Mission has been chosen by Napleton Subaru for its "Share the Love" event.
"We are grateful Napleton Subaru chose to partner with Rockford Rescue Mission and for their commitment to making a difference in our local community," said Sherry Pitney, Rockford Rescue Mission CEO. "Their generous donation will have a tremendous impact on those we serve and help further our programs of shelter, recovery, education and job-skills training for hurting men, women and children."
Here's the story from WIFR-TV.
Pictured left to right: Ted Tomita of RRM, Justine Brugger, Scott Nicoll and Todd Tifft of Napleton; RRM Board Vice Chair and Chair Dave Davitt and Ann Dittmar; and Gary Heckman of Napleton.